Congratulations, we made it through another week. Anyone else actually pat themselves on the back for a job well done? No…that's just me?
I am gearing up for another long week of, well, life. Prepping ahead and making my week a little less stressful/crazy/intense is my key to a "back patting" Sunday. Grocery shopping, meal planning, packed lunch planning (yes I do that!) at least allows me to check off some stuff from my list. So, cheers to another week down and another week ahead. Here are a couple of this weeks dinners.
Crockpot Beef and Broccoli This is a great dinner that you can throw in the Crockpot and go! Serve it over rice for a perfect weeknight dinner.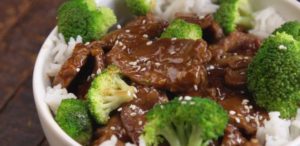 Easy Beef Stew This recipe is one that my mom always made growing up. It is SOOO simple and SOOO good. Serve it over egg noodles or rice. Find the recipe below.
Happy Sunday!


Easy Beef Stew
Ingredients
2

lb

cubed stew beef

2

large onions

chopped

2

large carrots

sliced

1

can Tomato soup

2

cups

red wine

(cheap)

1

garlic clove

crushed

1

bay leaf

1/2

tsp

oregano

1/2

tsp

basil

1

tsp

salt

1/2

tsp

ground pepper
Instructions
Preheat the oven to 350 degrees.

Into a casserole dish put all the ingredients and mix well.

Cover with a lid or foil and cook for 3.5 hours. Serve over egg noodles or rice.