The weeks are getting crazier with the school year wrapping up and while I am constantly thinking that there are not enough hours in the day for all that I have to get done, I can always count on the fact that I have dinner prepped and ready to go and I don't have to think about that during the day. I have always said, the key to a successful week of dinners is planning and prepping. Take a little time over the weekend and think about the nights ahead- what is your work schedule, the weather (you may not want to be grilling in the rain), the kids sports schedules and then plan accordingly. It is a rare week that I get every dinner I planned made and on the table, but that doesn't mean I don't try my hardest. Saturday night we are hosting a BBQ for Memorial Day Weekend…Fingers crossed for a little sunshine coming our way!
MONDAY
Burgers and hot dogs (We LOVE Bubba burgers)
grilled veggies (mushrooms, onions, peppers)
Caprese pasta salad (try this one)
TUESDAY
Crab cakes over mixed greens salad
WEDNESDAY
Pasta Primavera with italian dressing marinated grilled chicken
THURSDAY
Breakfast for dinner! Waffles, bacon and fruit salad
FRIDAY
Make your own pizza
S'more night!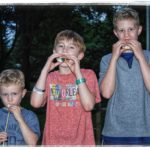 SATURDAY
BBQ Chicken (this is my favorite recipe)
Baked Beans (see my easy recipe here)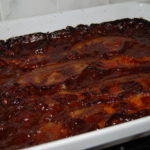 Corn on the cob
Mac 'n Cheese (This is the BEST EVER MAC N CHEESE!)
Ice Cream sandwiches (these are my specialty and a crowd favorite!)
SUNDAY
Ravioli with pesto, peas and grilled chicken Salad
Crab Cakes
These crab cakes are packed with lump crab meat and flavor. Easy and quick makes these a great weeknight meal!
Ingredients
1

lb

crab meat

1/2

cup

panko crumbs

5

Tbsp

mayonaise

1

Tbsp

parsley

minced

5

Tbsp

green onions

minced

2

Tbsp

worcestershire sauce

2

Tsp

dry mustard

1

Tbsp

butter

1

Tbsp

olive oil
Instructions
Mix all the ingredients together.

Melt butter and olive oil in a pan until hot. Brown crab cakes for 3 minutes per side or until heated through.
Pasta Primavera
Serve this as a side dish or top it with chicken for a full meal. Either way, this is a great way to use up any vegetables you have on hand!
Ingredients
asparagus

cut into 1 inch pieces

1/2

lb

zucchini

sliced

1/2

cup

peas

frozen or fresh

1

cup

broccoli florets

1

pint

cherry tomatoes

halved

1

box

spiral pasta

cooked and drained

3

Tbsp

fresh parsley

chopped

1/4

cup

fresh basil

chopped

1 1/2

cup

mayonaise

2

Tsp

garlic

minced

2

Tbsp

white wine vinegar

salt and pepper
Instructions
Cook asparagus, broccoli and zucchini in boiling water for 3 minutes. Drain and plunge in cold water to stop cooking, drain and set aside.

Combine cooked veggies and tomatoes in a large bowl.

Add cooked pasta to the veggies, along with the basil and parsley. Toss to combine.

Combine mayo, garlic, vinegar and salt and pepper in a small bowl.

Add mayo mixture to the pasta/veggie mix. Toss to combine.

Serve cold or at room temperature.
GROCERIES
Bubba burgers
burger buns
rotini pasta
2 pints grape tomatoes
Fresh basil
mini mozzarella balls
balsamic
olive oil
mushrooms
onions
bell peppers
1 lb crab meat
panko bread crumbs
eggs
mayonaise
fresh parsley
green onions
worcestershire sauce
dry mustard
salad mix (2)
chicken- boneless breasts (2)
Italian dressing
asparagus
Frozen peas
zucchini
broccoli florets
spiral pasta
garlic
white wine vinegar
waffle mix
bacon (3 packs)
fruit salad (store bought or homemade)
pizza dough
mozzarella cheese
pizza sauce
Pizza toppings of your choice
butter
shallot
heavy cream
half-and-half
flour
11⁄2 cups grated sharp white cheddar cheese
1⁄2 cup grated fontina cheese
1⁄2 cup grated Parmigiano-Reggiano cheese
penne (2)
fresh chives
3 tbsp truffle oil
Chicken (bone in breasts)
brown sugar
thyme
ketchup
molasses
cumin
paprika
28 oz Campbell's Pork and Beans (2)
Cheese Ravioli
Pesto (homemade or store bought)