With yet anther beautiful week ahead of us, I am cooking accordingly! A nice glass of wine, a hot grill and eating outside is a perfect night for me. What's yours?
MONDAY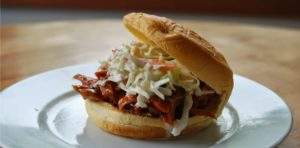 BBQ Chicken sandwiches (Find the recipe here)
coleslaw
Roasted corn and tomato salad (Find the recipe here)
TUESDAY
Grilled flank steak over a beet salad with goat cheese, spinach and veggies. (I marinate the steak in teriyaki with a splash of orange juice and crushed garlic clove)
WEDNESDAY
Cedar planked salmon (Try this one)
rice
salad
THURSDAY
Grilled sausage sandwiches with fried onions and peppers
Homemade Fries (my Fav!)- use any seasoning you like!
Salad
FRIDAY
Naan Bread pizza on the grill! I'm using anything leftover in my fridge..I'm thinking one with goat cheese and spinach, another with sausage and fried onions, maybe a BBQ chicken pizza??
SATURDAY
My Favorite day… TAKE OUT!!!
SUNDAY
Spaghetti with homemade sauce.  This recipe is time consuming but it makes the house smell great and it is definitely worth the wait! You can also find the 'how to' video here.  *I always double this and freeze the other half for another night
Caesar salad
GROCERY LIST
2 Rotisserie chicken
onion (bag)
BBQ sauce (bottle)
garlic
hamburger buns
coleslaw (store bought or homemade)
Corn on the cob (8)
pint cherry tomatoes
fresh basil
red wine vinegar
olive oil
flank steak
teriyaki marinade
orange juice
spinach
beets
goat cheese (4 oz)
favorite vinaigrette dressing
cedar planks
salmon
lemons
rice
salad mix (2)
italian sausage
hoagie rolls
bell peppers
russet potatoes
seasoning of your choice
Naan bread
spaghetti
caesar salad mix
35 oz San Marzano plum tomato (2)
pork neck bones (5-6)- I substitute this for short ribs and then shred the meat into the sauce at the end
ground beef (1 lb)
ground pork (1 lb)
bay leaves
dried oregano
white wine
tomato paste