SUNDAY PREP
Happy Sunday! The weather is *finally* starting to break and feel a bit like spring so I'm starting to shift my meals more towards grilling and garden veggies….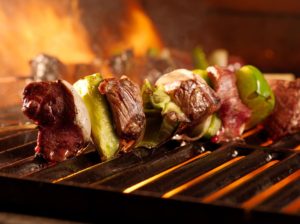 MONDAY:
Greek Chicken Kebobs (Find the recipe HERE)
Tzatziki
Tomato & Feta salad (Find the recipe HERE)
Naan bread
TUESDAY:
Taco Night! (I use THIS recipe for the meat)
Chips and Guacamole
WEDNESDAY:
Cobb Salad with Grilled Chicken (Marinated in Italian seasoning)
THURSDAY:
Fancy Grilled Cheese (with Tomato & Bacon on bakery bread)
Tomato Soup
FRIDAY:
Grilled Naan Bread Pizzas (use anything leftover in your fridge from the week!)
SATURDAY:
Take out!
SUNDAY:
Teriyaki marinated Grilled Flank Steak
Salad
Foil potatoes (in foil, wrap potatoes thinly sliced with onions, butter and s&p- put them on the grill with the steak for 20 minutes)
GROCERY LIST:
Chicken breasts (enough for 2 nights)
Oregano
Garlic cloves (1 head)
Olive oil
Lemon (1)
Cumin
Fresh parsley
Chili flakes
Store bought Tzatziki
Grape tomatoes (4 pints)
Red onion (2)
White wine vinegar
Fresh basil
1 ½ lbs feta cheese
Naan Bread (enough for 2 nights)
Ground beef
Yellow onion (2)
2 small cans of diced green chiles
Chili powder
Enchilada sauce
Tortillas
Sour cream
Guacamole
Lettuce
Tomato
Mexican cheese
Tortilla chips
Romaine lettuce
Bacon (1 pack)
Crumbled blue cheese
Avocado
Hard-boiled egg
Italian dressing
Balsamic vinaigrette dressing
Loaf of Bakery bread
Cheddar cheese (1 lb)
Butter
Tomato soup (store bought or homemade)
Pizza sauce
Shredded mozzarella cheese
Flank steak
Very Teriyaki marinade
Potatoes
Salad mix