Well, summer is over and we are in full swing with our crazy fall schedules. The first couple of weeks are just adjusting to the schedule and figuring out all the kinks. For me everything goes pretty smooth if I keep to some kind of routine. It could be big or small but either way, they make the world (my world) go round. Everything from how my mornings run with waking up, coffee, laundry and kids to the sports driving at night with carpools and schedules. The other part of my routine that I have always done and is a total game changer is planning my dinners ahead. On Sundays I always sit down and plan what I am doing for the week. This is when I check what needs to be used in my fridge, what I have frozen in the freezer and whats on sale at the store. I basically take an inventory of everything from food to shampoo and make my list. If my kids need extra supplies for school or are in charge of the sports snack that week, this is when it gets organized. I write the dinners on a white board that I have on my fridge and then every morning I can check the board, pull the meat out of the freezer to thaw or throw the ingredients into the crockpot. Life is easier with a routine. Take a few minutes on Sunday to plan for your week- trust me, you'll thank yourself later!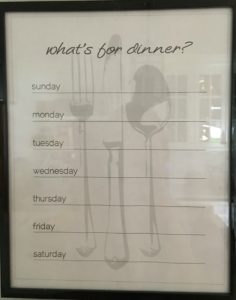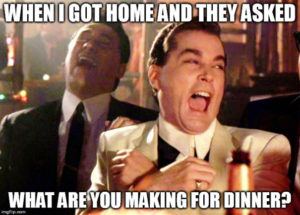 Here are a few of my favorite go-to dinners for a busy weeknight!
Roasted Chicken with thyme, lemon and garlic- I serve this with either rice or couscous and a salad.  This is the recipe I LOVE!
Lamb Bolognese-  I serve this over penne with a side salad. Find the link here for a video on how to make this easy weeknight dinner!
Turkey Chili– This is a great one to have simmering on the stove for when the kids and husband trickle in after work or sports. Serve it with a side of cornbread for a fantastic fall dinner! Find the recipe below.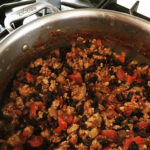 Turkey Chili
This is a great weeknight dinner that can be warming on the stove as everyone in trickling in from sports and work.
Ingredients
1

Tbsp

oil

1

large onion

chopped

3

garlic cloves

minced

1

red pepper

chopped

1

green pepper

chopped

1.5

lb

ground turkey

2

Tbsp

flour

3

Tbsp

chili powder

2

Tbsp

cumin

2

tsp

cocoa

1-2

tsp

cayenne

1/4

cup

tarragon vinegar

2

Tbsp

brewed coffee

1

28oz can

diced tomatoes

salt

2

cans

black beans
Instructions
Heat the oil over medium high heat in a dutch oven. Add the onion, garlic and both peppers. Saute, stirring for about 5 minutes. Add the turkey and cook, breaking up the lumps

Stir in the flour, chili powder, cumin and cocoa. Cook over low heat for a few minutes. Add the cayenne, vinegar, coffee, tomatoes and salt. Bring to a boil. Simmer gently for 45 minutes. Add the black beans and cook for 10 more minutes.

Serve with sour cream, chopped scallions, cilantro, cheddar cheese and avocado.