Peach season is in full swing right now so take advantage of it! I took my boys to a local orchard the other day and loaded up on two big bushels of peaches. It was a really fun morning out but it is also going to help stock my freezer and pantry for the coming months. Here are a few great recipes to help you use up your extra peaches!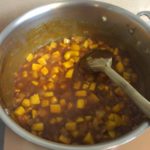 Peach Whiskey BBQ Sauce
Ingredients
olive oil

1

cup

chopped onion

1

tbsp

minced garlic

1

tsp

chili powder

1/3

cup

boubon

I used Bird Dog peach flavored whiskey

1

tbsp

Dijob mustard

2

peaches, peeled, cored and diced

1/4

cup

brown sugar

1/2

cup

ketchup

3

tbsp

apple cider vinegar
Instructions
Heat the oil in a large pan over medium heat. Add the onion and saute until soft and slightly browned (about 12 minutes). Add the garlic in and cook until fragrant (3 min).

Stir in the chili powder and mustard. Stir in the peaches, bourbon, brown sugar, ketchup and vinegar. Simmer for 30 minutes until the peaches are really soft. At this point, take it off the heat and let it cool down.

When it is cool, puree in a blender until desired consistency. This is great on ribs or chicken! Store it in a container in the fridge for a week or freeze it for up to 6 months.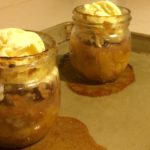 Mason Jar Peach Crumbles
Ingredients
4

cups

peaches

peeled, cored and diced

3

Tbsp

Tapioca

1

Tsp

cinnamon

dash of salt

1

cup

brown sugar

divided in half

squeeze of half a lemon

1/4

cup

flour

2

Tbsp

oats

3

Tbsp

butter

cold and diced
Instructions
Mix all the ingredients together in a large bowl. Spoon the mixture into clean mason jars (about 3/4 of the way up). In a separate bowl, mix together the rest of the brown sugar, the flour and oats. Cut the butter in until it is combined. Top the mason jars with the crumble mixture.

At this point you can either bake them at 350 degrees for about a 3-40 minutes (or until hot and bubbly) or you can put the mason jar lids on a store them in your freezer.

If you are baking them from the freezer, take the tops off and place the jars on a baking sheet. Put the baking sheet into a cold oven and turn it onto 375 degrees. This will take about an hour but will ensure the jars won't crack and break.

Serve these hot with a scoop of vanilla ice cream