Don't let the incoming cold fall weather stop you from enjoying these amazing ice cream sandwiches! It combines all the flavors of fall within a "summer" treat.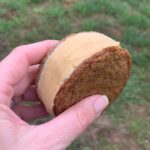 Ginger Snap & Pumpkin Ice Cream Sandwiches
Ingredients
For the Ice Cream
1

cup

pumpkin puree

1

tsp

vanilla

8

egg yolks

3/4

cup

brown sugar

2

cups

milk

2

cups

heavy cream

1/2

tsp

cinnamon

1/2

tsp

ground ginger

1/4

tsp

salt

pinch

nutmeg
For the Cookies
1 1/2

cups

butter

softened

2

tsp

ground ginger

2

eggs

1

cup

molasses

4

cups

all purpose flour

4

tsp

baking soda

2

tsp

cinnamon

1

tsp

ground cloves

2

cups

sugar

1

tsp

salt
Instructions
For the ice cream:

In a saucepan, whisk together the egg yolks, salt and sugar. Slowly add the milk and vanilla. Put over medium heat and cook until thickened, stirring constantly! When thickened, pour through a sieve into a bowl. Add the heavy cream and combine. Put plastic wrap directly on the custard mixture and put in the fridge until cool. In a small bowl, mix together the pumpkin, and remaining spices. Put it in the fridge until chilled.

When the custard is chilled, add the pumpkin mixture and whisk until all the lumps are gone. Put in a ice cream maker and freeze according to the directions.

For the cookies:

Preheat the oven to 375 degrees. In a medium bowl mix together the flour, soda, cinnamon, cloves, ginger and salt. Set aside.

In the bowl with an electric mixer, beat together the butter and sugar until light and fluffy. Mix in the eggs one at a time and the molasses. Beat on medium until combined. Gradually add in the dry ingredients and beat until just combined.

Put plastic wrap directly on the dough and put in the fridge for 30 minutes until chilled.

When chilled, roll the dough into 1" balls and then roll in sugar until completely coated. Place on cookie sheets about an inch apart. Bake for 10 minutes until golden brown with cracks starting to appear. Transfer the cookies to a rack and let cool completely.

Sandwich Assembly:

When the ice cream is firm and the cookies are cool it is time to assemble! Put a full ice cream scoop on the bottom cookie and spread out with a butter knife. Put the top on and fill in any gaps in the sides with more ice cream. Wrap in foil and freeze until hard.

Keep in the freezer and enjoy anytime for the next 3 months!
Enjoy this beautiful fall weather!