It all started because I was trying to figure out a fun way to showcase the food we had been growing in the garden. I am always one to try to convince everyone the benefits of a vegetable garden. What better way to do this than throw a fabulous dinner party making all food from the garden?! Brad and I went all out for this, using as much from not only the garden but also from our yard in general. We wanted to make the whole party as organic and natural as possible.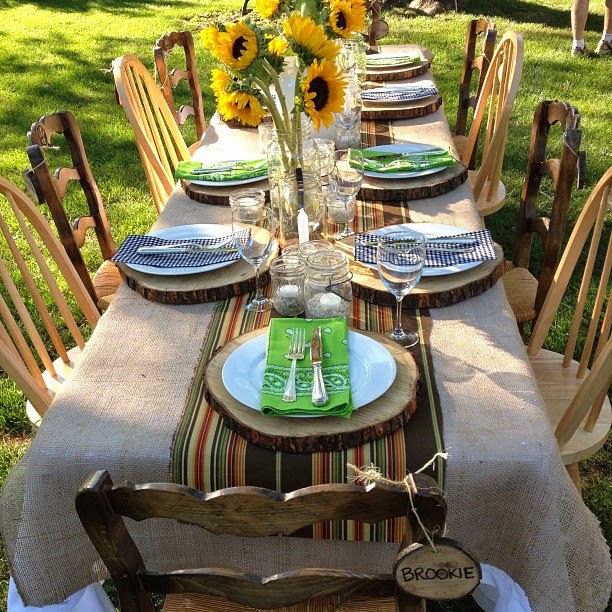 For the table, I started with a white table cloth then layered burlap on top of that and finally made a runner out of fabric that I found. The fabric has most of the colors of my yard in it so it worked perfectly.
Brad cut chargers out of an old tree from our property. I sanded them down and sealed them. We did the same for the name tags on each chair. I used a dremel to cut the names in and then burned them with a wood burning tool. I finished them with a coat of sealer and a bit of twine.
I used basic white dishes to keep it simple but added some color with the bandanna napkins. Then to add a little elegance, I used my silver place settings.
I filled mason jars of all sizes and shapes with sand and a tea candle. The glow of the candles gave the whole night a romantic feel while the sunflowers kept the table happy and fun.
For the cocktails, I kept it fun! I premade all the drinks in labeled mason jars and put them in an ice bucket next to the table. Here are the cocktails I made.
Raspberry Vodka Spritzer
             750ML bottle of vodka infused for 1 week with raspberries (rasp from garden)
              Serve 2 oz of vodka, club soda & mint (mint from garden)
Pimms Cup
             Muddle cucumber and an orange slice (cucumber from the garden)
              Top with 2 oz of Pimms and finish with 7up
Pear Mojito
              Muddle 10 mint leaves and 1 tsp of sugar (mint from the garden)
              2 oz Pear Nectar
              2 oz white rum
              Finish with club soda and a slice of pear (pear from our pear tree)
They were all a huge hit and everyone had a different one as their favorite! We served red and white wine on the table for dinner along with cucumber water.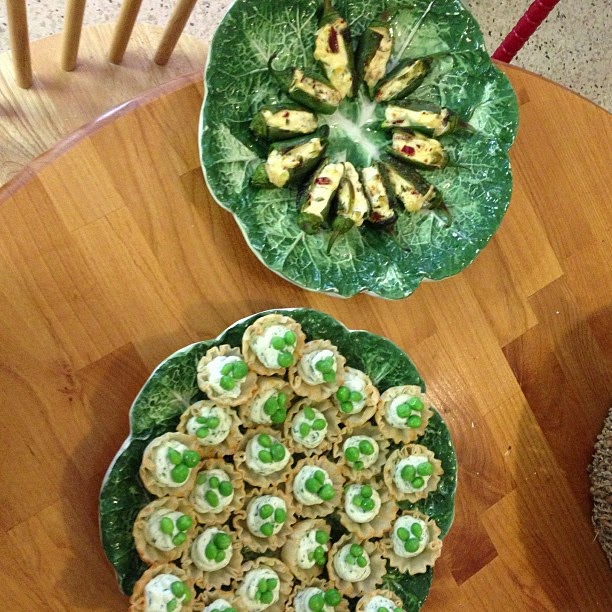 For the food, I wanted to keep it simple but still fun and fresh. I did a menu of mostly make ahead food so I could really enjoy the party and my guests. Here are what I had for hors 'd oeuvres.
Pea & Goat Cheese Tarts
I used the frozen filo cups and filled them with goat cheese that I mixed with a bunch of herbs and topped them with snow peas that I took out of their shell. They were so light and fresh!
Sliced Sweet Peppers with Hummus
Caramelized onion & Apple Tarts
(I used apples from our apple trees)
See previous blog posting for recipe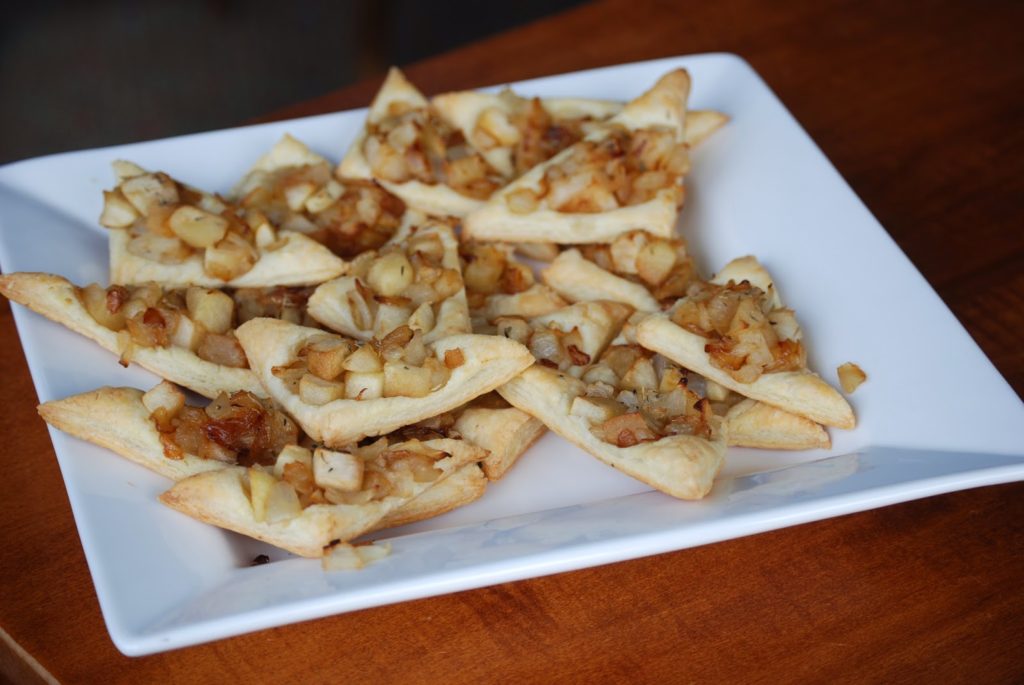 Stuffed Jalapenos
Preheat the broiler and move the oven rack to the top position. Slit the jalapenos from the stem end to the top and halfway around the base (Don't slice all the way through). Remove all the seeds and put the jalapenos cut side down on a pan. Broil them until the skin begins to blister. Remove them and set aside until cool enough to handle.
In a small bowl, mix the 8 oz of goat cheese, 2 minced garlic cloves, 10 minced pickled cherry peppers and 3 Tbsp of the cheery pepper brine. Stuff the jalapenos with about 2 oz of the cheese mixture. Place the peppers back onto the pan and broil them, cheese side up, until golden brown.
Bruschetta
Use your favorite recipe
Cream Cheese with jalapeno jelly
Check back this summer for the jalapeno jelly recipe.
For Dinner, I kept with the same idea of making it all ahead of time and keeping it simple.
On both ends of the table I had a loaf of zucchini bread with three different spreads. I had a purple basil butter, pear jam and a rhubarb jam. I put these all on a wood charger and burned "Grow, Cook, Eat" into it (Its the name of an amazing cook book by Willi Galloway).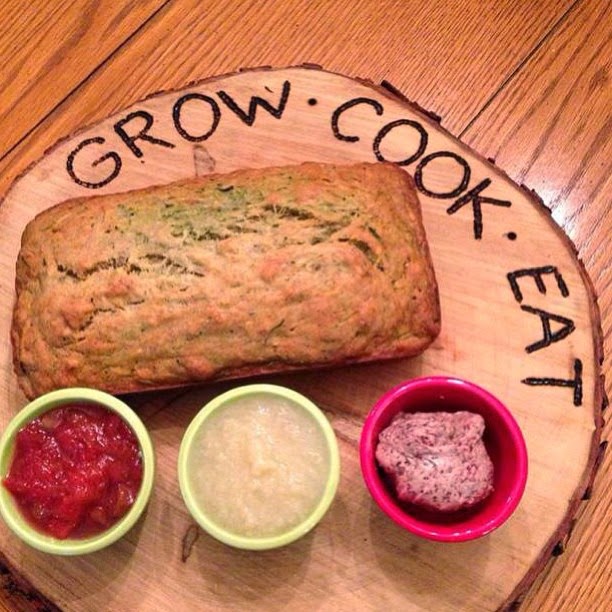 The day before the party, I marinated boneless, skinless chicken breasts in a simple marinade. The day of the party, I grilled the chicken and drizzled pesto over the top. I served this sliced and cold.
For side dishes, I made a simple, yet tasty Tabboleh salad. This showed off the tomatoes from the garden which were so sweet and yummy and a bunch of herbs! Along side this, I made a zucchini, squash and cucumber salad. I peeled them with a vegetable peeler and then dressed them in a carrot and ginger dressing (the carrots were from the garden).
I think dessert was my favorite part of the meal because it was so unexpected! The main attraction was chocolate zucchini cake. This was drizzled with raspberry sauce and served with three kinds of ice cream on the side: Beet & Orange, purple basil raspberry swirl and basil and mint. They were so weirdly good!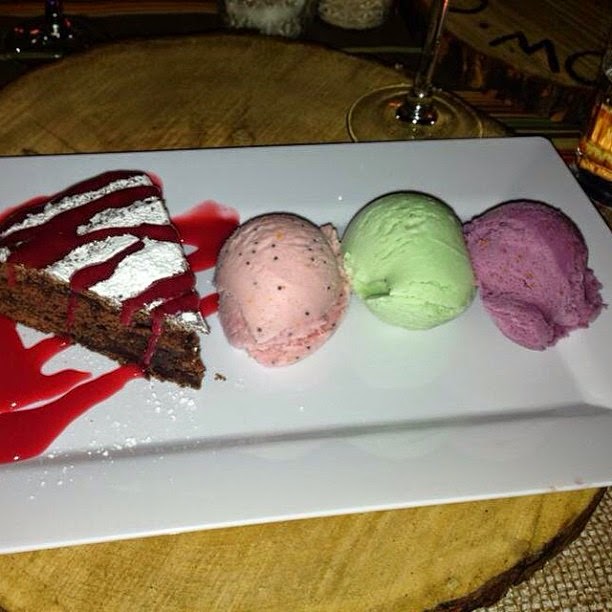 The night was so much fun! I had some of my favorite people around me and the setting was perfect. We had a fire lit after dinner where we all sat around and relaxed. The night was simple and perfect! Of course the one thing that made my life unbelievably easy that night was using staff from
Feel Like a Guest
to do all the serving and clean up!